Readers, where do you buy your breakfast cereal? Are you getting the most for your money? This week, let's take a look at where you could be buying it, because changing your cereal-purchasing location can save you up to $10 per month!
Before we get talking about cold cereals, though, let me say this about breakfast foods: Oatmeal is almost always the cheapest way to go. Not instant oatmeal, but rolled oats, purchased from the bulk foods section or in a big cardboard tub. You can cook these up in the microwave just like instant oatmeal, and then add your own flavorings, like maple syrup or fruit, for cheaper than almost any other breakfast option. Oatmeal is also one of the healthiest foods out there, stocked full of protein and fiber.
However, not everybody likes oatmeal. So here are some other ways to cut down on your breakfast cereal expenses:
See if Trader Joe's carries a version of your favorite cereal. Yes, Trader Joe's is known in some places for carrying expensive food, but it has one of the best deals in cereals around. One of my roommates claims that you can't taste the difference between Joe's Os (TJ's version of Cheerios) and name-brand Cheerios. Your wallet sure can tell the difference, though: A 15 oz. box of Joe's O's is $2.50, and the same size box of Cheerios can run up to $4.50 someplace like Walgreen's.
Try Target. Strange though it may seem -- since Target is not necessarily known as a grocery store -- Target offers mean deals when it comes to name-brand cereals. My favorite cold cereal, Quaker Oatmeal Squares, are $3.36 a box at Target at regular price, but are $5.19 at the grocery store near my house. Target offers other cereals even cheaper - a box of Rice Krispies come in at only $2.75, NOT on sale.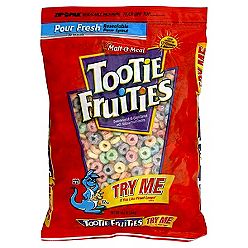 Look up or down on the
grocery aisle to find
cereal like this, just
waiting to be taken
home!
Look Low! A commercial a few years back encouraged people to squat down in the cereal aisle and look at the bottom shelf to find a good price, and that's still true. This commercial was for Malt-O-Meal, which has been the industry leader in discount breakfast cereal for years, but that's the case with all generic cereals; they're still often stocked on the bottom or top shelves at grocery stores. No matter where you shop, be sure to look up and down to consider ALL your available choices, and not just the brands the store wants you to buy.
Of course, coupons and sales can alter the playing field, too, so be sure to shop smart and rack up the savings in as many ways as you can!
Here's to a week of scooping up some good deals on breakfast, friends!